It's Issue #3!
If you're new and want to check out issues 1 & 2, re-visit our newsletter page and scroll to the bottom.
At School and On Live Radio
There is a very special radio program which we highly recommend called, "Ridin' Dirty - The Radio Show". Ridin' Dirty is the only talk show in America focused on the issue of drunk driving. On May 11th, I was among a group of guests on the show. We have audio for you. But first, we've been busy with a couple of events lately. One in particular stands out ...
SoberDrivers at Elementary School
We were invited to attend the Open House for Mariposa Elementary School in Ontario, CA by the school's OutReach Coordinator, Maria Sandoval.
We understood the point of inviting DrinkingAndDriving.Org to an elementary school open house was to show the parents what some of the services in community were.
But we saw an opportunity to let the school make a statement by our being there. We set up a table with a five foot long SoberDrivers Pledge poster and a bunch of markers. Then we invited not only the parents, but the school staff to sign the pledge. Sure enough, an announcement was made over the P.A. system and the teachers started coming by and signing. At the end of the Open House, we presented to poster full of teacher, parent, and student signatures to the school.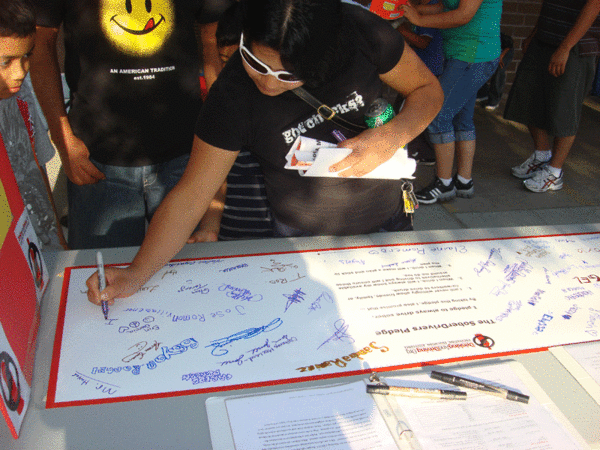 Spending Drive Time with Ridin' Dirty - The Radio Show
If you drill through the statistics map on our Home page to your County's statistics page, you'll see we have a recommendation on that page to listen to Ridin' Dirty - The Radio Show.
Ridin' Dirty is the only show of its kind; a talk show dedicated to the issue of drunk driving. The whole idea of Ridin' Dirty is to encourage discussion and help promote responsibility when it comes to drinking and driving. This is right up our alley, isn't it? I'll be posting a blog entry in a day or so with some details about the studio (it is in Angel Stadium), the people (producer/host Ken Sharp, his on-air better half, Julie Atkinson, and the other guests), and the experience.
This first link is the portion of the program with my interview only. This is the audio we will be posting in the blog entry.
Clip 1: Interview Only
This next clip is the one you should listen to! It is the entire show complete with a DUI Attorney, some Jack Daniels trivia, and a great idea involving sporting event tickets and designated drivers.
Clip 2: Entire Show