Hello and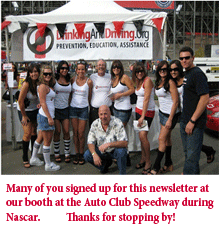 Most of you reading this came by our booth at the Auto Club Speedway February 20-22.

This means that many of you have one of the "Legal Limit" key chains we were giving away. Some of you probably couldn't resist and have already tried them out.

We are working on making refills available. We will also be offering the key chains in our online brand store soon.

We hope you added the key chain to your existing key ring because it is a convenient, constant reminder not to drive drunk.

Just knowing that you have it can make you think before that next drink.

That's what we are all about. We like to promote responsibility in ways that are lasting without being condescending.

That's why we were all about breathalyzers at Nascar.

NASCAR Event Highlights
We gave away 500 key chains with single-use breathalyzers.
Jon from Alco-Checkpoint and the DrinkingAndDriving.Org Girls administered hundreds of free breathalyzer tests on a coin-operated model available here.
We awarded three of you with our daily drawing for an AlcoMate Premium AL-7000 Personal Electronic Breathalyzer.
The map which dominates our Home page shows the states color-coded by grade. Our grading system is centered around the national average DUI arrest rate (60 out of every 10,000 people are arrested for DUI each year.)
We go into detail about how we arrived at our averages and grades in our Disclaimers page. Our color scheme for grading is …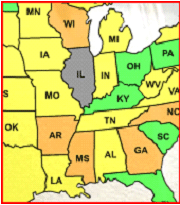 A = BLUE
B = GREEN
C = YELLOW
D = ORANGE
F = RED
But Illinois is grey. This means we have no DUI arrest data for Illinois! If you click on Illinois, you will see that every county is grey.
Where does our data come from and why isn't there any for Illinois?
Our arrest data comes from FBI statistics. These statistics are gathered on a county by county basis from the entire country.
But this data is given through a voluntary program. In other words, a county goes out of it's way to provide this information to the FBI. Most counties do this willingly. Some do it sporadically.
When we first assembled our arrest data into the map format, I was troubled by the fact that we had no data for Illinois.
Since then, Illinois politics has been major news across the country due to the entrepreneurial spirit of it's Governor. And it brings out other facts like three living ex-Governors of Illinois being in prison.
I began to think there was a connection between these events and an apparent decision state-wide not to cooperate with the FBI.
Happily, I was wrong! In May, the Alliance Against Intoxicated Motorists released their DUI Arrest Survey County Sheriff's Police arrests. I contacted AAIM to ask if these survey results were comparable to the FBI statistics we use.
They pointed out first of all that their survey focuses on unincorporated roadways and would not include entire counties. Then, they tipped us off to where we could actually get the data we want! Here is a link to detailed DUI Arrest Statistics for Illinois — http://www.cyberdriveillinois.com/publications/pdf_publications/dsd_a118.pdf.
To add this to the database for our map will take some bucks that we don't have right now. But keep an eye out in the future for the color of Illinois on our map to change. (YOU can help make it happen sooner. Just go to our website and use the Google Donate button donate as little as one dollar. If each of you donated one dollar, we could afford to turn our database guy loose on adding this data and updating other statistics.)
Finally, AAIM helped us to understand why Illinois statistics were not part of our data to begin with. The FBI approaches the DMV/DOT in each state for their DUI arrest statistics. It turns out that in Illinois, the Secretary of State's office handles these records, not the DMV. So the FBI was asking the wrong department for the information.
Meanwhile, we do have fatality statistics for every county in Illinois, though. Fatality stats from the NHTSA come from insurance companies.
When it comes to investigating America's drunk driving habits, the FBI apparently can't compete with insurance companies!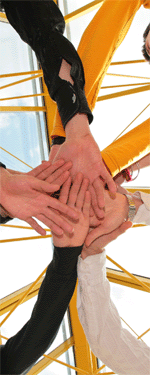 We have a lot going on at our website, but we don't want to miss an opportunity to reach out to people any way we can. And while we're not going so far as to twitter, you can connect with us a couple of other ways.
So be sure to check out our soberdrivers YouTube Channel. We put up a couple of videos from the Nascar event (one breathalyzer test at .04 and an interview we did with radio station KTIE.) We are putting together some educational DrinkingAndDriving.Org short films that you'll want to watch out for including video versions of the lessons in our DUI Avoidance Lesson Plan. You can subscribe to the channel so you'll know when we put up fresh vids.
"Your space or mine?" Yes, we have a MySpace. Visit us there and be our friend! Let us know what you think.
And although it's on our website, Blogs are looked upon as something totally different because of the ability for YOU to comment. So get Behind The Wheel and turn an opinion or question into a discussion on our blog.